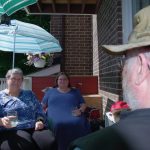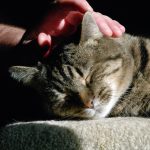 After spending over two months at Sis's place we packed our little red car and headed west once again. But we hung around long enough to celebrate Mom's birthday — margaritas on the balcony! Leaving is always such sweet sorrow, but we know we'll be back fairly soon, and this time hopefully we won't have to live with masks and separations and all the restrictions brought on by the pandemic. Luckily, there was time for one last sing-song (wait for it…):
So we loaded the car and were once again Alberta Bound. We've been doing this so often now that we have our favourite stops, the first of which is a little town of Cobden, not far north of Ottawa. It has one of the best chip wagons around, and makes the yummiest poutine. A small one feeds a growing boy for hours 😀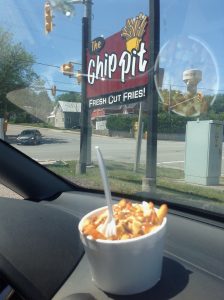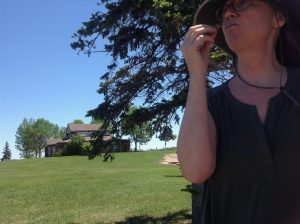 Although Covid-19 numbers had been coming down steadily everywhere, Ontario was still under lockdown and travel restrictions. We left not knowing for sure if we would be allowed to cross into Manitoba. And given the continued restrictions, we made the hard decision not to try and make our usual stops in Thunder Bay and Kakabeka to visit all our good friends. It was very hard to just whiz by. We knew Ben & Sherilyn would have welcomed us warmly — and we deeply missed our Olivia & Molly time 😢. Paul & Julie would have bent over backwards to make us welcome and safe, but we felt it was best for everyone to just pass on through. Don't worry… we're not making this a habit. We'll be back 😉.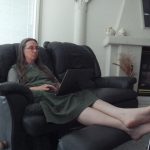 The journey across was uneventful and easy. We arrived in Calgary on the sixth day after leaving Ottawa and entered the welcoming bosom of Donna & Sam's home(s). We arrived to a small flurry of activity as the Big Day was fast approaching. Monique and Phil's wedding was coming fast, and D&S were busy finalizing plans, organizing events and people, and generally marshalling all that is required for such a big event. We helped out where we could.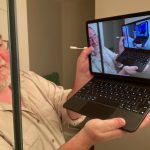 After spending a few days at their Calgary house, we headed down to Beauvais Lake to move into their beautiful cabin. This was part of my birthday present. I thought it was the whole thing, but then Ann had to go and make a yummy cake. And to top it all off Ann, along with an assist from Mom and Kathy, and some conniving by Donna, surprised me with a fancy new iPad.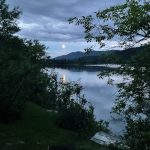 We spent the next few days relaxing by the lake. Ann swam, I learned how to use my new iToy, and generally did nothing. It was great. We also connected with cousins Kevin and Barb over at the Crook Farm. They'd been storing our motorcycles for us. So we went over and spent the afternoon getting the bikes out of the barn, then helping with a few tree-planting chores.
Of course, Ann dove into the task — literally — and managed to first splash herself with mud, and then nearly break her ankle while carrying big cans of water. I look over and all I see is Ann doing a face-plant, and then water splashing up like a geyser. Luckily we had a nurse (Barb) on the job, who got Ann lying down and her ankle in ice packs. Personally, I think it was just her way of getting out of work 😉.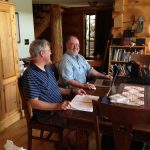 With the big wedding day fast approaching, Donna and Sam came down to the cabin to finalize details and work on a few events. I helped Sam with the big Parents' Speech by assembling a little movie/slide show. Ann helped organize and keep Donna calm 😉. On the day before, we moved over to Gladstone Mountain Ranch to help with assembly and final preparations, including the rehearsal.
With everything hearsed and rehearsed, the wedding day arrived and went off beautifully. Everyone said "We Will," and "Ah Men," and most importantly "I DO!" at the right time and in answer to the right questions. Ann was in charge of streaming the whole ceremony to Phil's family who could not attend due to Covid border restrictions. But the deed was done:
After that there was nothing left but the speeches and the parties.
And whatever the heck this is 😬 😳
And yes, Ann and I even got up to dance a little: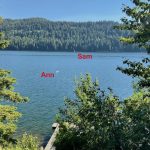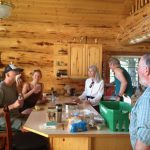 The following days were spent putting the Ranch back the way we found it, then relaxing at the cabin once again. It was peaceful and glorious, as usual.
Eventually we headed back up to Calgary to hang out at the Big House. This was during the heat wave that struck most of Western Canada. Happily our bedrooms are always in the basements, so we remained relatively cool. We whiled away the time, taking in the heat, and enjoying the storms.
One final excitement for us was to be invited to Cailan's 33rd birthday. Holy Crow where does the time go!! Anyway… Peggy and Phil booked a picnic shelter at Lake Midnapore, which is their "lake" 🙄 in their neighbourhood. We spent the whole afternoon talking and eating and celebrating the whee little one.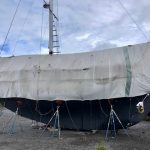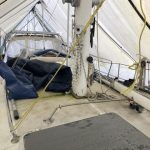 So for now we hang out here in southern Alberta. We'll be bouncing between the cabin and the Calgary house through most of July. After that we have a couple of house sits that will take us through to mid-September. Beyond that, we're not really sure. Lewisporte friends have been checking up on our boat. One even got on board to pump out the bilge and take a look around. Everything seems pretty good, although there is a foot-long tear in the tarp. It doesn't look too bad, and our wonderful friend Mark has offered to try and repair it in August. So we'll see.