We said our farewells to Carol and Pete and the gang of critters, and headed over to our final house-sit in Medicine Hat. We made a quick stop in Calgary at Donna & Sam's — just long enough to help celebrate Phil (Jr.)'s birthday, before making the short hop to "The Hat."
We were warmly greeted by our homeowners, Gail & Pat, and we spent a lovely evening together, swapping stories and getting to know the house and animals. Although they have four critters in total, they had decided to take the two small dogs with them to California. This left their two sweet kitties in our charge: Allie and Sasha.
Every cat has its own unique personality, and these two are no different. Sasha is easy going and immediately accepting of everyone — especially if you give her treats. But Allie needed a little more convincing. At first, she greeted us strangers with growls and little hisses. She made it clear that she didn't know us, so didn't trust us. Happily, this only lasted until about day three. After that, it was all purrs and cuddles.
In the end, Allie became completely connected. She wanted to be close to one of us most of the time. She would sleep beside me through the day in the office, or curl up on Ann's lap. Allie would constantly do the leg rub thing, seemingly just to say hi. And she was so engaged visually. She'd lock eyes, and purr, and reach out with her paws. She was soooo sweet.
Our house here in Medicine Hat was located on the edge of town. It wasn't quite rural, but it was in a pretty small subdivision. Even better, the house was located not far from an oxbow in the South Saskatchewan River. There were plenty of walking trails right outside the door, and a short 10-minute walk got us down to the river's edge.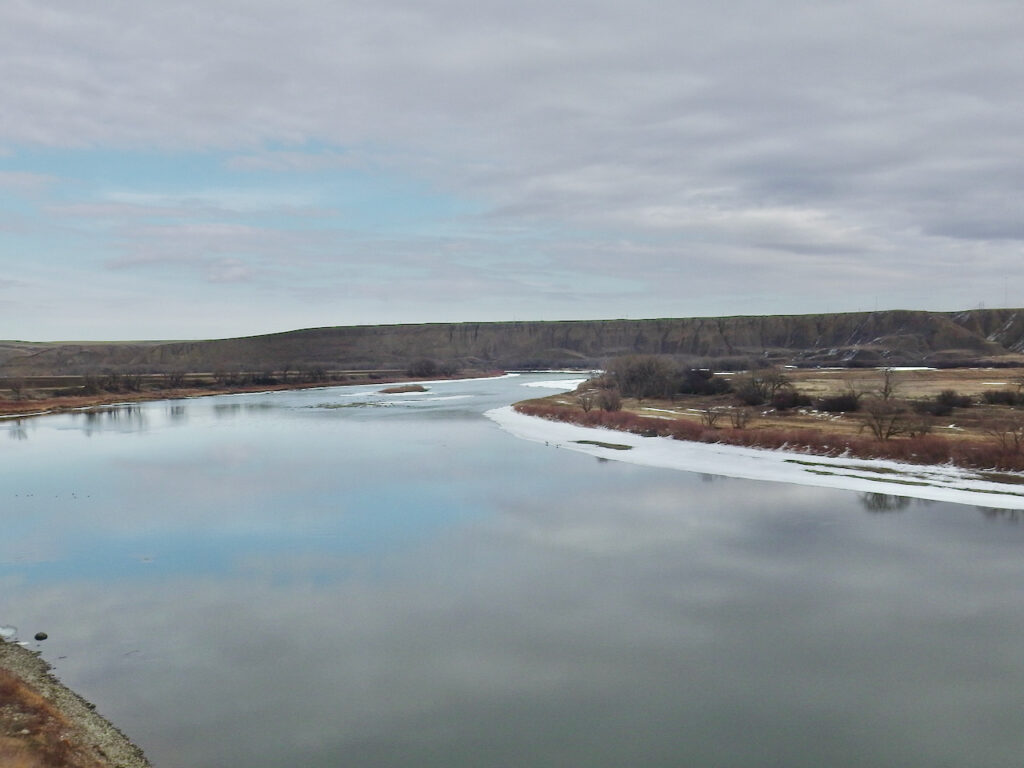 Medicine Hat's climate and geology is fascinating, and very beautiful — in a dry, dusky sort of way. It's actually a semi-desert, with dry prairie grasses, badlands and hoodoos (or nearly so). One big surprise for me was to discover all the cacti that grew along the bank of the river. I haven't seen cactus growing in the wild since our motorcycle trip through the deserts of the American south. But here I was, nearly tripping over some, here in Canada.
Our time in Medicine Hat was very relaxing, and easy. The house was the most luxurious we'd had this winter season. Kitties are always easy. There was an excellent swimming pool nearby, so Ann could continue her dolphin evolution. She also kept up with her online exercise class, much to the amusement of the cats.
Our time in Medicine Hat went all too quickly. Happily though, we're planning to be back next fall, so we'll get to reconnect with our lovely homeowners, as well as those two sweet kitties.