Our time in Ottawa was relatively short this time. Unfortunately, we were under a bit of time pressure to get out west for our first house sit in Rouleau, SK. And of course we had to stop in on our many friends in northern Ontario. So we came, we drank, and we left. Thanks Kathy/Mom!
Our journey through northern Ontario was a bit different than normal. To see everyone we had to alter our normal travel pattern a bit, staying first in Thessalon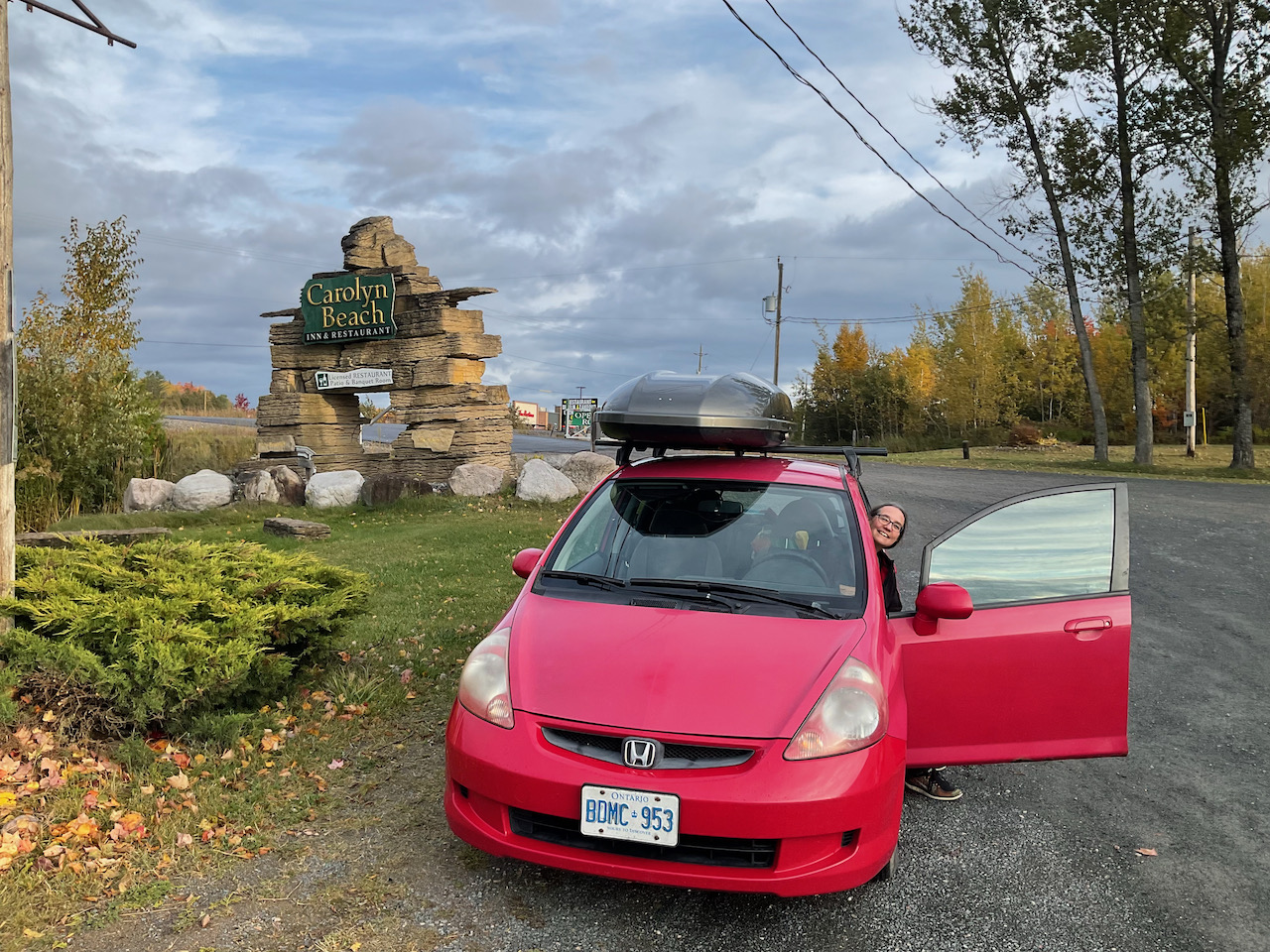 , and then making it all the way to Thunder Bay.
Our incredibly generous friends, Paul & Julie, once again opened their hearts and their homes to us. P&J have been letting us stay at their cabin on Lake Superior. It's a lovely rustic place with a little fridge, a propane stove, a woodstove for heat, and an outhouse for… other necessities.
We spent a few wonderful days with our old sailing friends, enjoying their company, and meeting their new kitty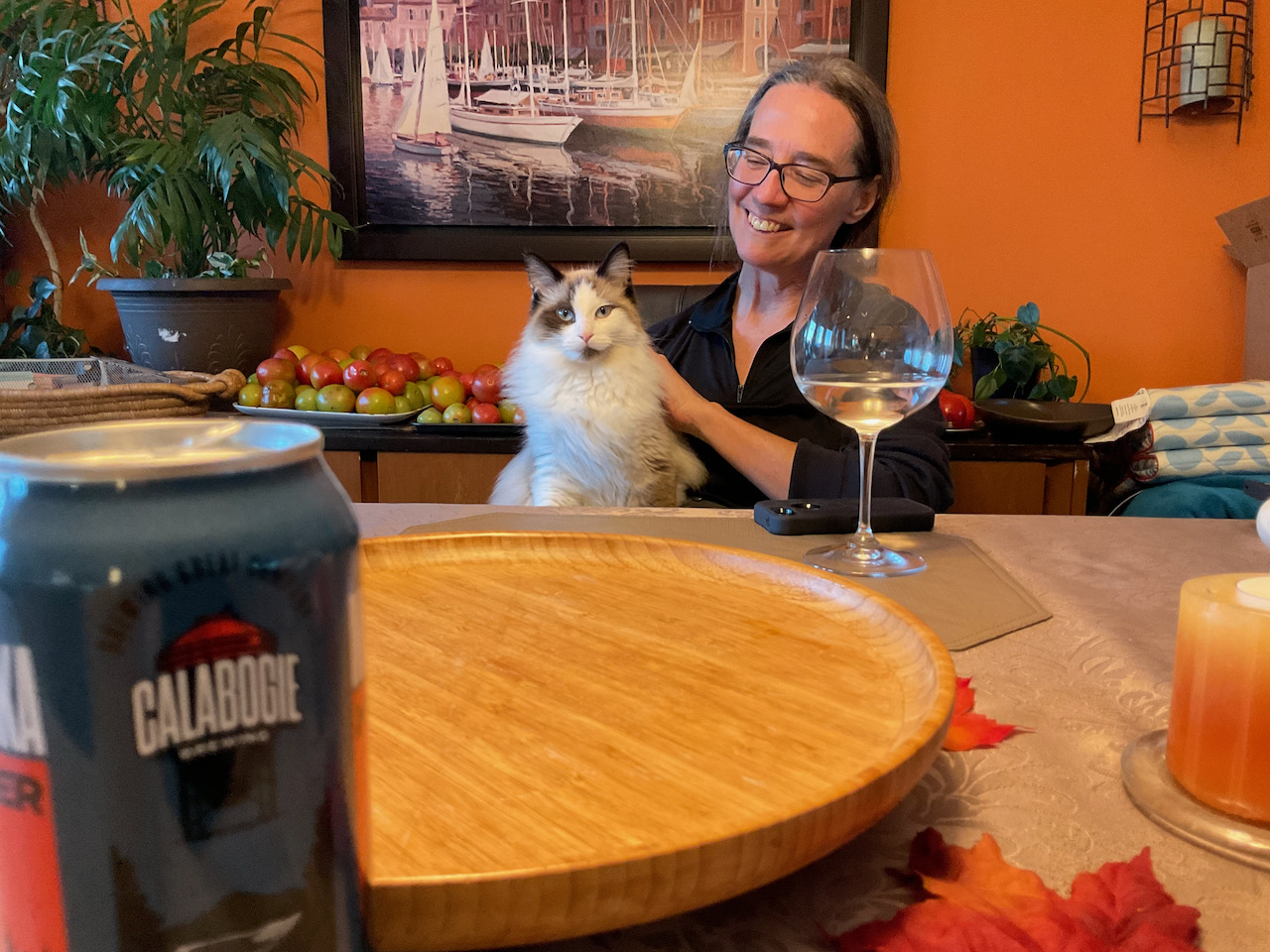 . We heard about their adventures on the Big Lake, and talked about all their new projects, future plans involving their land, and sailing, and generally enjoying retired life.
We also spent a lovely afternoon with friends Ben & Sherilyn, and their two sweet and always-fun girls, Olivia & Molly. We played, and sang a few ukulele songs, and generally caught up on their lives. They are living another form of the freedom-dream at their rural home outside of Kakabeka Falls, ON. It's a joy to spend time with them, and we remain ever grateful that they continue to house our little storage trailer for us.
From Thunder Bay we had to travel east to go west, backtracking to Rossport (Selim) area so we could spend time with Cathie and Joe, and meet their newest addition: Piper!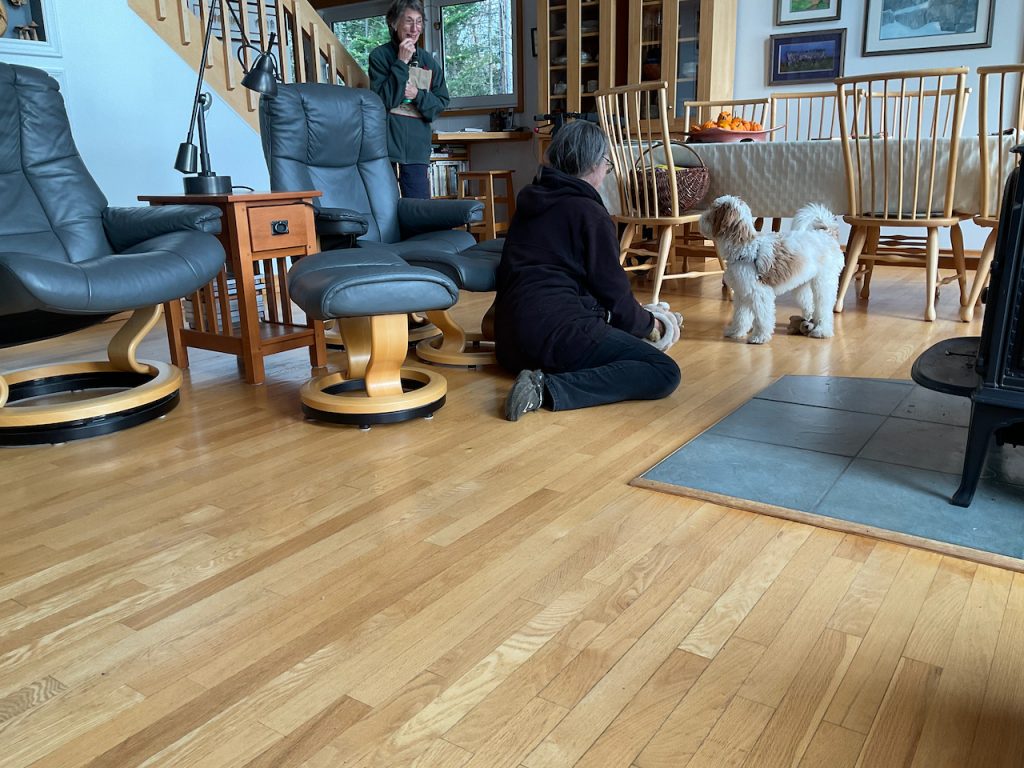 While there we lent a hand cutting and moving wood for future winters. But mostly we spent time talking and sharing stories of adventures past, and to come. C&J continue to be inspirations for us. Despite challenges of age and health, they continue to live the lives at their semi-remote cabin overlooking Lake Superior. It's not the easiest place to live, but it is enlivening. We always love spending time there.
Sadly, we were pushed on after a couple of days. We arrived at our first house-sit of the season in Rouleau, SK., which is more famously known as Dog River, the fictional town of TV show Corner Gas. The show used many of the actual town's structures, including Oscar & Emma's home, the town bar, and of course the shop that sells both insurance and liquor. This is not made up; it really does!
We arrived at our new temporary home just after a nasty winter storm swept through. It had knocked out the power, and would remain out for the next 36 hours. Luckily our hosts Christine & Joe were well prepared, and had a generator that kept the heat running, and at least one electrical outlet powered. We were able to stay warm and cook using the air fryer oven. Best of all, we met the small horde of critters who would be our main charge: Five cats, and two tiny and very energetic dog-pups.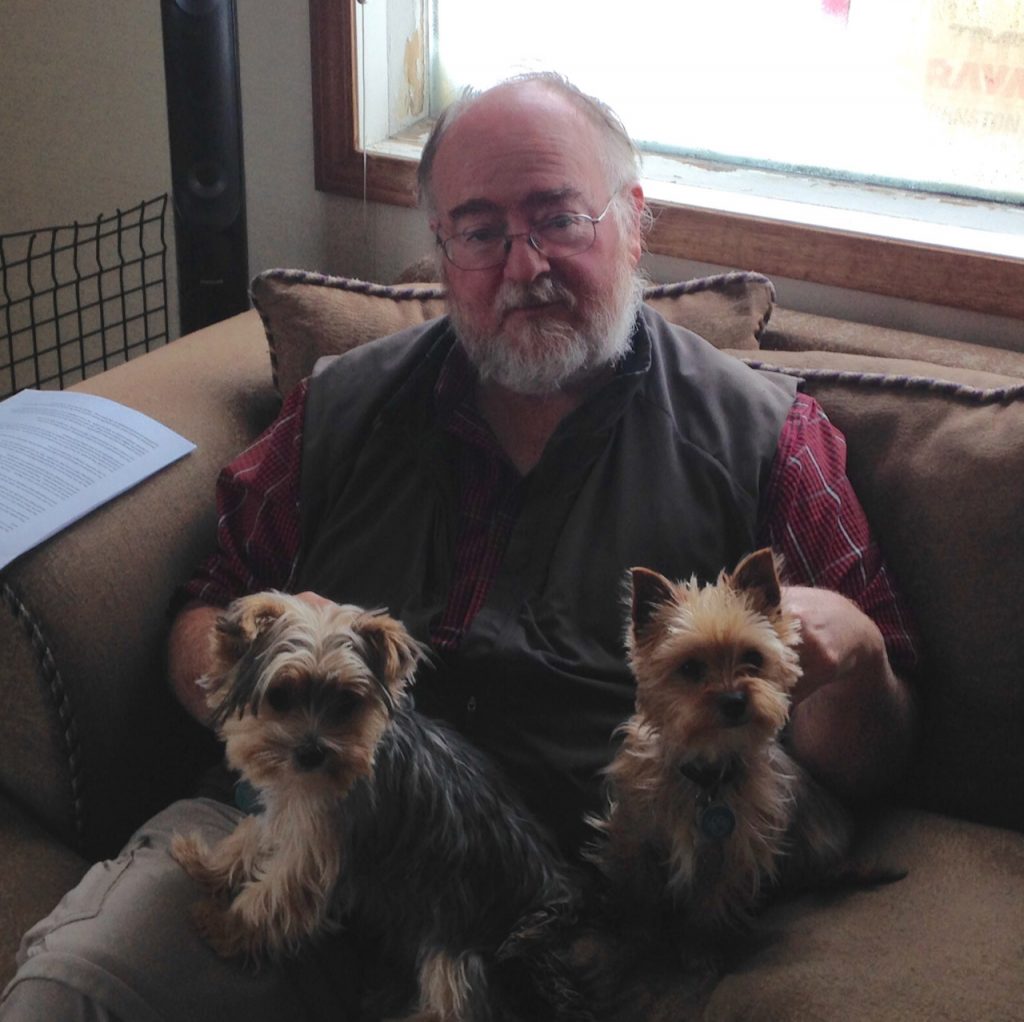 The two little morkie dogs were a hoot! Very funny, constantly on the move, and always in need of something. Being puppies, they were not fully house-trained, but we managed fine. And they enjoyed winter when it returned after a couple of days.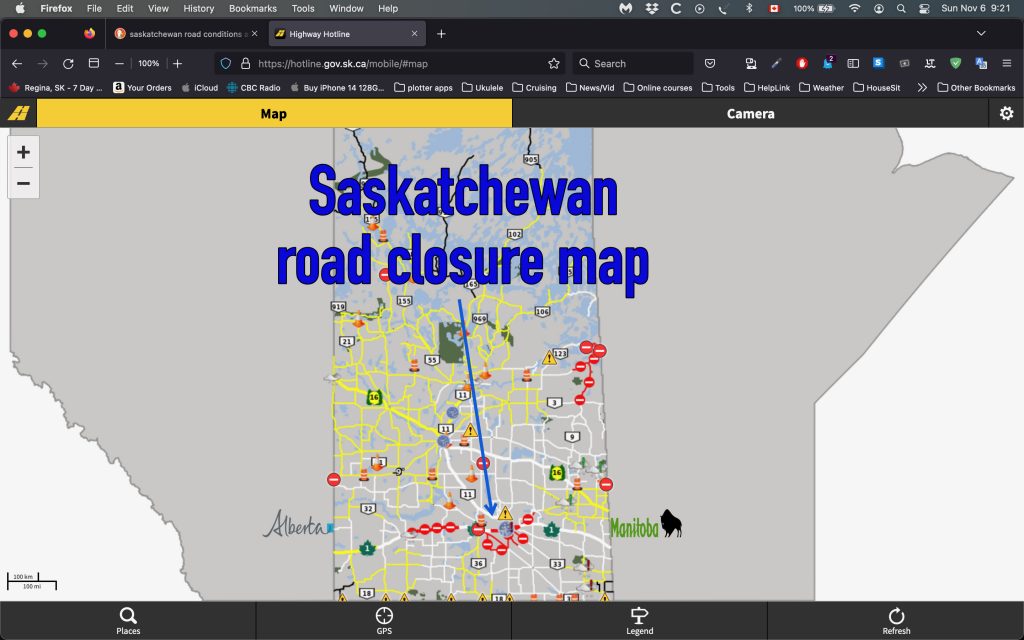 Our time in Rouleau was relatively brief, but a lot of fun as we got to know all the animals. All too soon our time came to an end, and we packed up and headed off to Calgary for a month-long stay with Donna & Sam. Along the way we discovered the perfect restaurant smack in the midst of the flattest flat lands of the Prairies. You gotta love it:
D&S's place is our second land-home. In fact, it's kinda like the two foci of our land travelling ellipse, with Ottawa being one and Calgary being the other. Of course, the incredible BIG NEWS in our Calgary life was … a new pool table! That, and losing a tooth after someone (Donna!) insisted I go to a dentist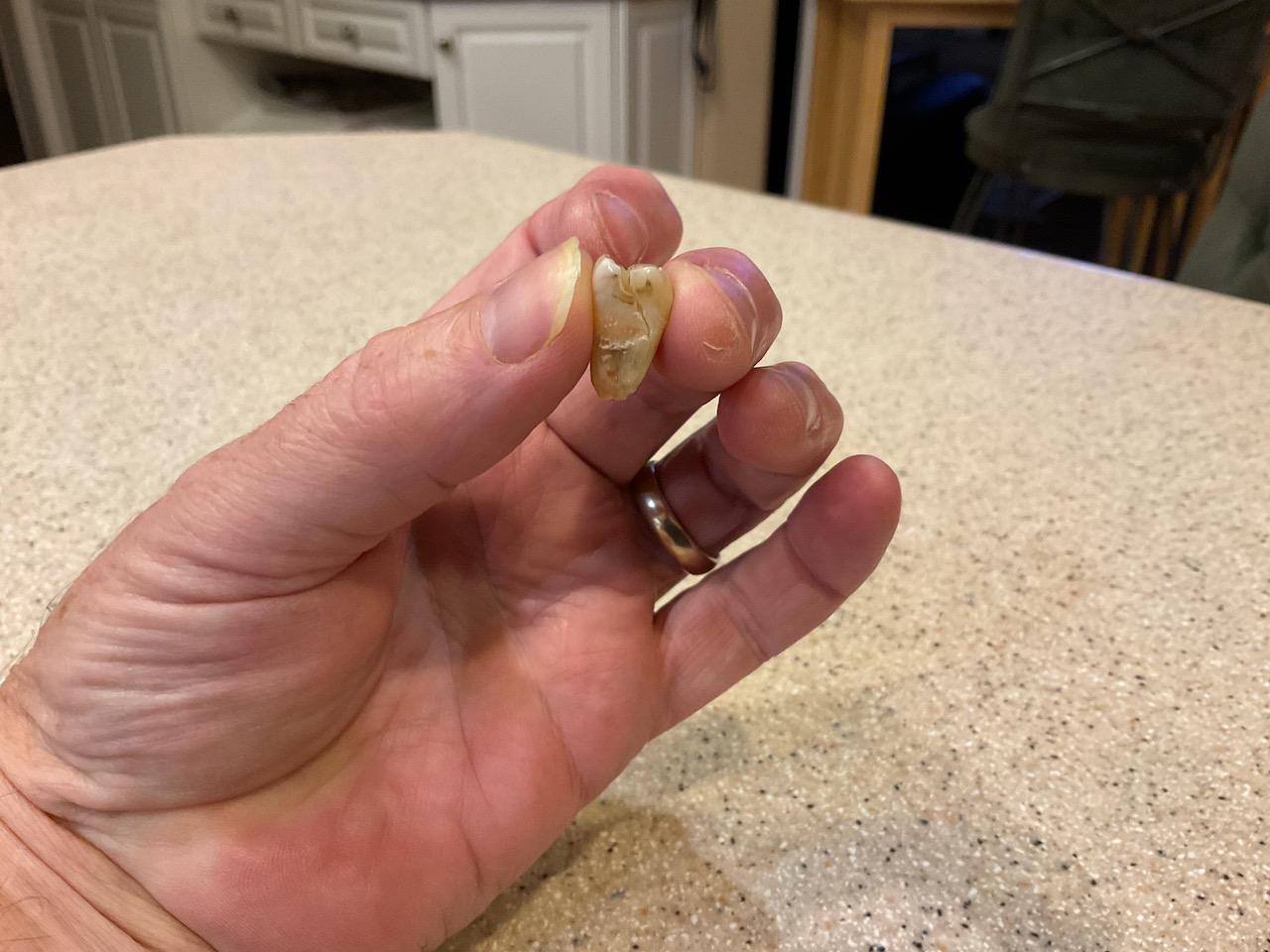 .
But I'm kidding, of course. The big new thing was meeting the tiny new thing called Olivia; Monique & Phil's new baby.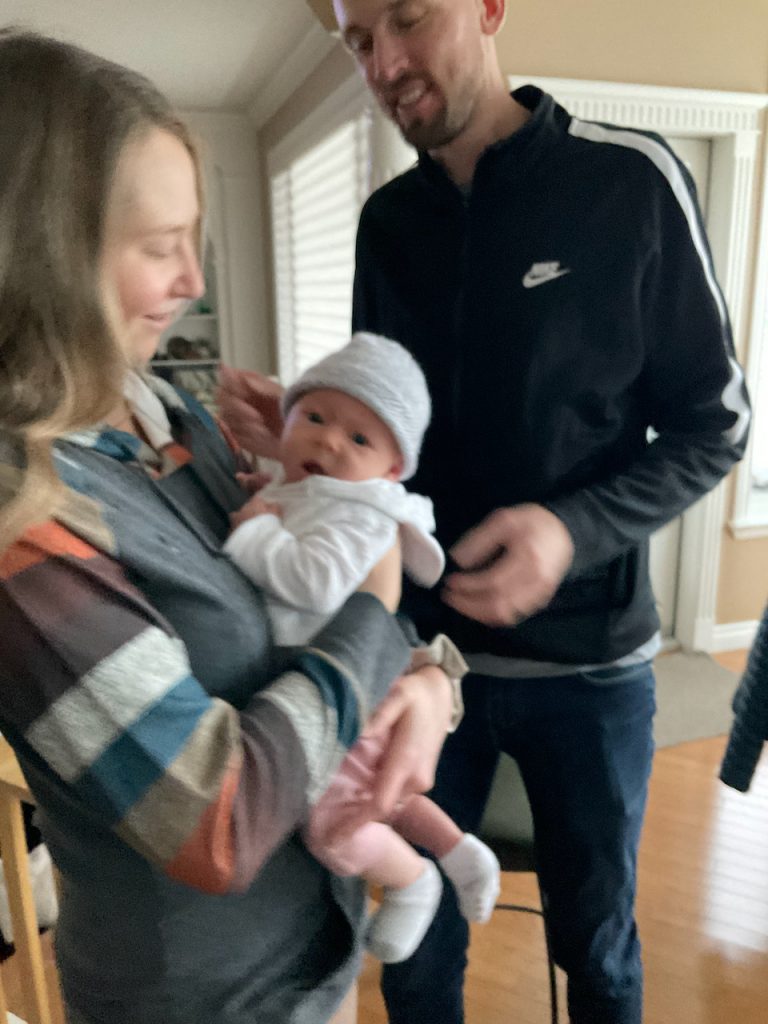 And there was one more Really Big Thing that happened while we were in Calgary. A certain someone turned 60!
We spent our final day packing up, and saying goodbye to Olivia, who will be something like twice as old as she is now when we meet her again in February, 2023!
The following day we packed our bags, gave our thanks to our hosts (thanks D&S!), and headed north to our first real ranch-sit. We decided to take the Icefield Parkway up through Jasper and past the Columbia Glacier. The road seemed the most direct, although it is less travelled, and was a bit difficult in places. But we managed, without only one wild animal attack
We arrived safely, and in good time, at our ranch near Telkwa, BC, which is about 1/2 hr away from Smithers. Les and Chris greeted us, along with the dog Jasper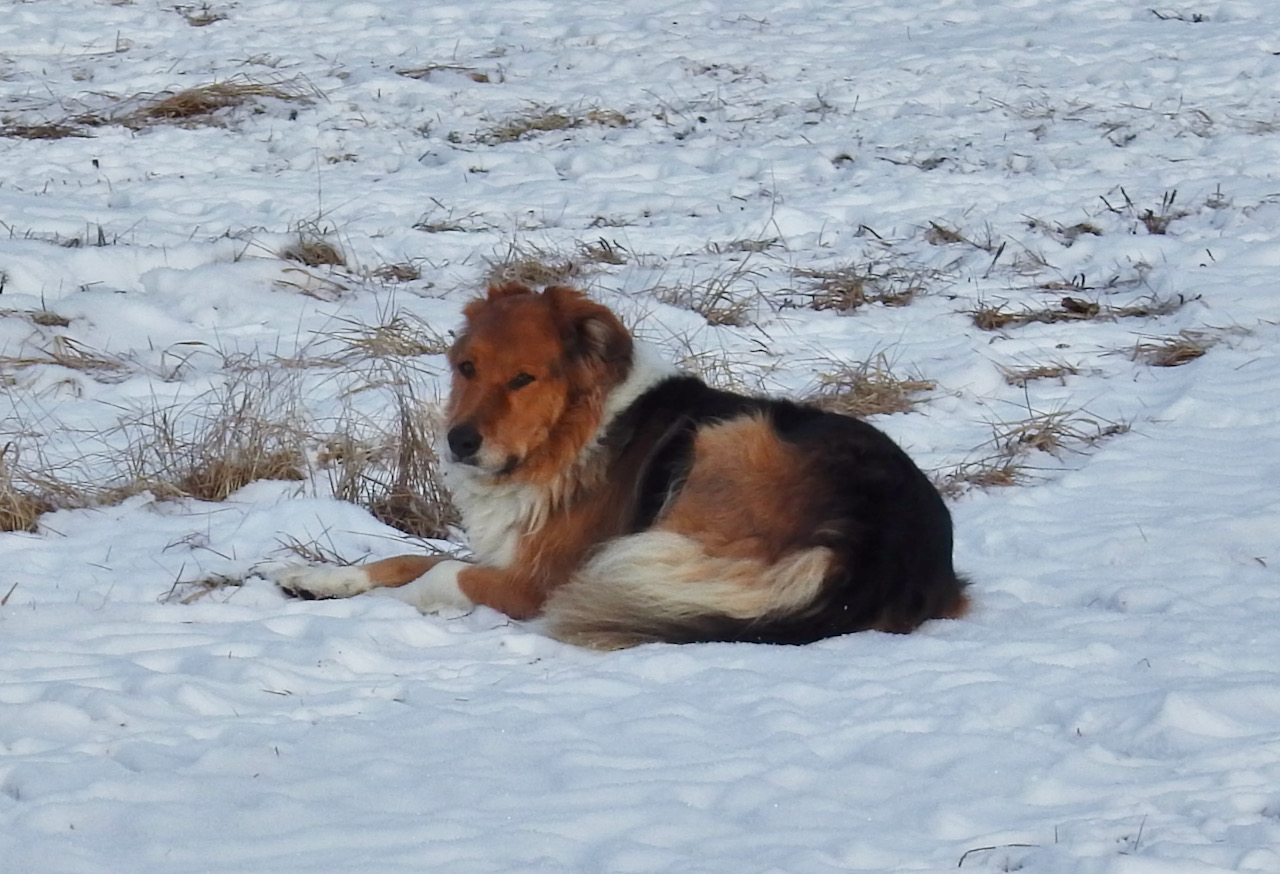 , and the cat Shamus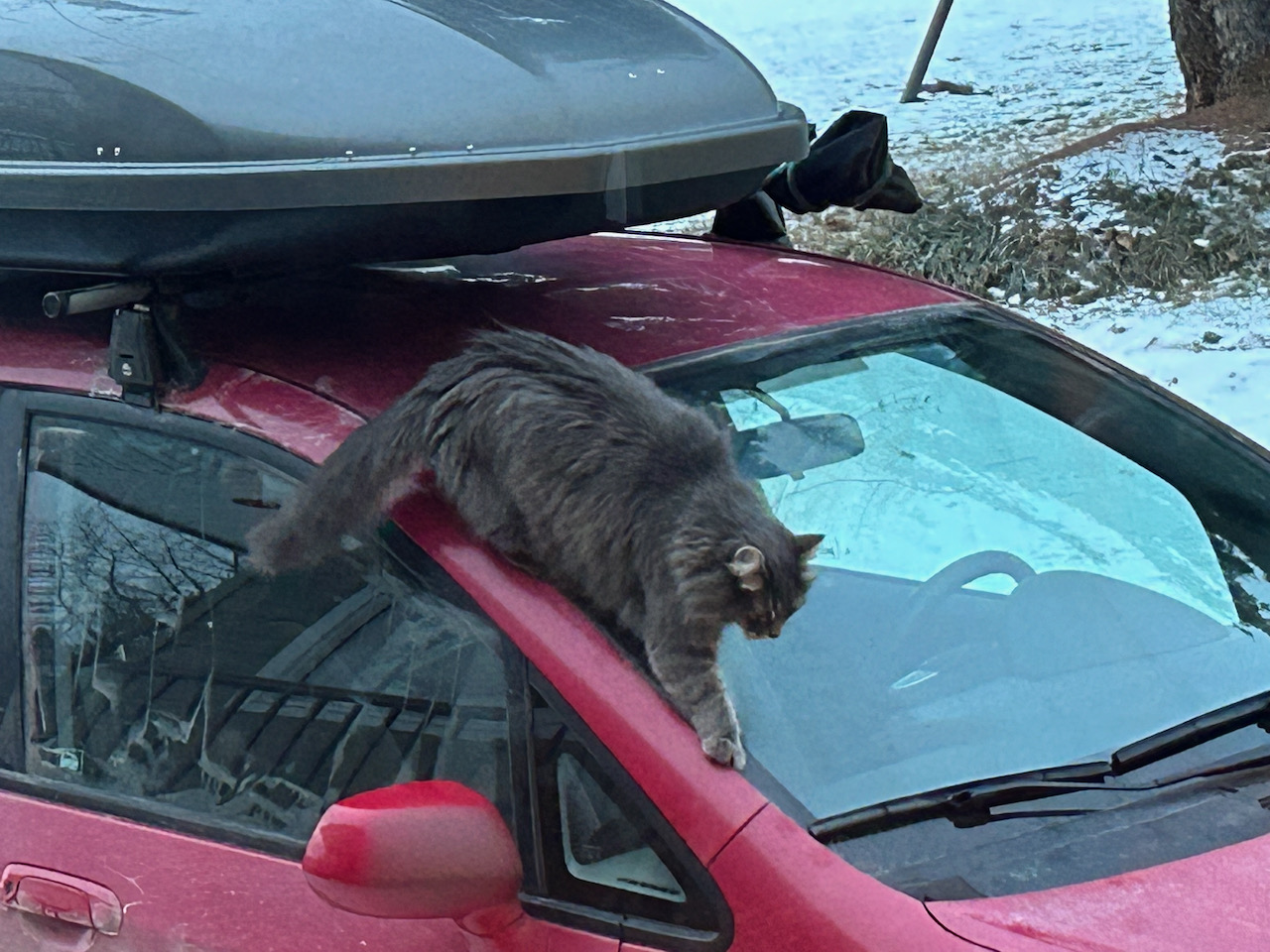 . After a wonderful first meal together, and then a good night's sleep, we then spent the next three days learning how to run a ranch.
There are 47 calves which we have to manage. One of the important tasks is to keep a count. This is easier said than done when they all look the same!
There are also two largish tractors that we had to learn how to operate. Happily, they both operate more or less the same, although one is larger than the other. Both have 16 gears, with front-end loaders and rear three-point hitches. The larger is dedicated to snow ploughing, so has a blade attached at the stern. The slightly smaller one is used for general work, mostly of manoeuvring around the 1-ton bales of hay and silage.
Other than our regular duties of keeping the calves fed (three or four bales every three days), we need to keep up on general maintenance. The fence needs monitoring and repair, the pellet stove in the farm house needs regular cleaning and filling, and the waterers need to be checked to make sure they never run dry. This is a critical part of maintaining the herd, and this was our first 'crisis' during the extreme cold snap that gripped the area not long after Les & Chris left for their trip.
Despite being fairly far north, the climate here is generally pretty easy in the winter. Typical overnight lows are in the mid minus teens (-12ºC to -18ºC), and the daytime highs are in the single minus digits (-8ºC to -2ºC). There is snow, but usually not massive amounts. So just our luck that record-breaking cold weather settled on us for days: -35ºC with wind chills well into the -40sºC for days on end. It was even chilly inside.
On the fourth day of this extreme cold, the calf waterer froze and stopped working. We sprung into action. Firstly, we had to get water to the critters, so found some temporary troughs and manually filled them — no easy task in -30ºC. We then tried to thaw the waterer, but soon realized we needed more help. Texts went out to Les, and he called in the cavalry: Jesse, one of our wonderful neighbours.
It took us over seven hours of working in the freezing cold. Turns out it wasn't just a frozen pipe. There was a cascade of failures; first it froze, then the feed hose cracked, then the valve broke. Just when one thing would work, another thing broke, but Jesse soldiered on. We were working with headlamps in the dark, but he finally got it all working. He was simply incredible, and the cows were happy once again.
The deep cold finally let up, but this was followed by three days of fairly heavy snow. Our private driveway stretches a km, and there's also a fair bit of driveway in front of the house, and then down to the hay barn. All of this has to be kept passable, so we fired up the big tractor and spent something like eight hours moving snow around.
In between all this excitement we also celebrated our own little Christmas, complete with tree (cut from just down the lane), some skiing, lots of Prosecco, and the full turkey meal.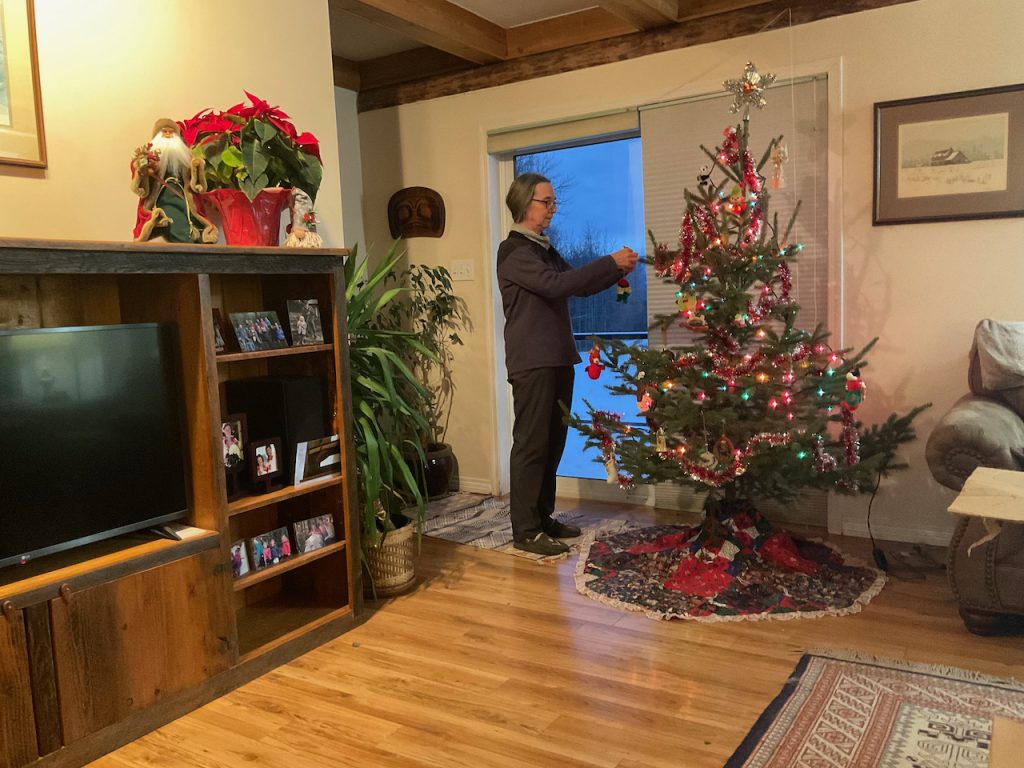 As the year came to a close we faced one more crisis. Coming out in the morning we found one of the cows lying on his side, with legs outstretched and a severely bloated stomach. Rectum/intestinal material was protoruding from the rear. Turns out this was a case of a "roll over," where the calf couldn't get up. It kept digesting food, producing gas, but couldn't expel it, so it just kept building up inside.
Once again the cavalry (or is it calfary) was called in. Jesse was first on the scene, and with my limited assistance we managed to get "L5" (they all have ear tags) rolled over. It tried to stand, but immediately fell. By then John had arrived. He's the senior cow hand, and he figured out what had happened. He and Jesse found some tubing, and they forced it down the calf's throat so as to release the gas.
After a few minutes the calf started to deflate. They let it rest a bit, then with their help L5 got to it's feet. Pretty wobbly at first, but it stayed up. We got them all fed, and it started to eat… tentatively at first, but better all the time. We've been checking him/her(?) multiple times every day, and all seems well. But John figures we were within an hour or so of death. Who knew lying down could be so deadly?!?
Despite the challenges, we're having a blast. It's hard work at times, but it's stunning beautiful, and we're learning so much. We have one more month, so hopefully nothing worse will happen. In the meantime, we're enjoying the place, and the critters.