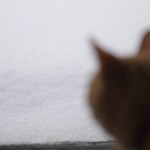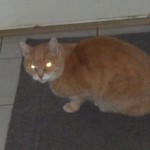 "Hsssssss … I'm not happy "
It's been snowy and rather chilly here in our winter retreat these past couple of months. Snows came after X-mas, along with lower than normal temperatures. It's still pretty easy and mild compared to just about everywhere else. But Maxi the cat doesn't like it… Hsssssssss!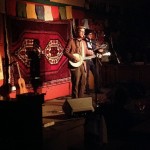 Otherwise, life moves on here in our wonderful Okanagan house-sit home. The occasional hot tubbing, mixed with singing and swimming, good beer and yummy food. Life is good. We got to experience the recent lunar eclipse. And used the excuse of our approaching anniversary (31!) to justify going out to see Old Man Luedecke at a small local pubby/restauranty concert venue.
Actually, this concert outing was supposed to be on the first night of Donna's visit to us in Penticton. Unfortunately her plane got diverted back to Calgary that first afternoon due to fog. Luckily her plane managed to get through late the next day.
We spent the next few days playing around, exploring the area, drinking and eating, and generally have a fun time: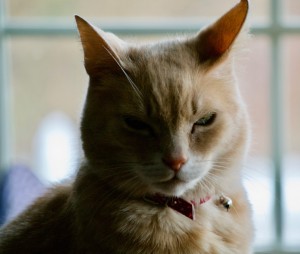 While in Penticton Donna and Ann concocted a plan to take Ann away, leaving me all alone and sad

. So, a couple weeks after Donna's departure, Ann flew off to Calgary, ostensibly to do some "work" for middle sister. This left me all alone in Penticton for nearly a week.
Well, not quite alone. The beast had to be served:
Luckily the week went by fast, and thanks to FaceTime, I still got to be part of the Calgary events, including a dinner at Peggy's, and a remote jam session featuring two guitars and a ukulele.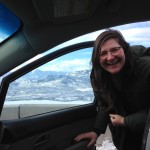 The week of sadness and longing went by without too many tears, but it all culminated with Ann driving back to Penticton with Cailan! My favourite niece from Peggy's family came for a near week-long visit.
As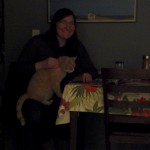 like Donna, she showed up with a cold, but a few days of relaxation and quality kitty time, and she was as good as new.
After a day of rest, and study for Cailan, we jumped in Peggy's HUGE car and went on a mini road trip through Oliver and Osoyoos. It was a beautiful day of small mountain towns, wonderful vistas, and vinyards at just about every turn.
But then we spotted the road. Actually, "road" might be too grandiose. It was more like winding dirt trail switchbacking precariously up the edge of the mountain, disappearing into the ominous clouds.
Whenever Ann sees a winding mountain road she gets this twitch in her eye and lead in her foot — "WE MUST DRIVE UP THERE!" And so we did.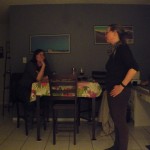 It was nice to just hang out with Cailan for the week. We chatted, and ate and drank, and made her watch crazy movies like Guardians of the Galaxy. And best of all, Maxi the Cat started sleeping upstairs with Cailan. Amazing how much extra space there is on our wobbly water bed when not having to work around a cat!
Cailan discovered the joys of a dark chocolate porter, so the following day we visited Cannery Brewery for some tasting and good eats.
Sadly, the visit was way too short. Cailan claimed she had to leave because "she wanted to graduate this year." Bahh says I, "There's always next year." But for some reason this didn't persuade her to stay. So off she went, back to Calgary.
So now it's back to normal life of a little work, a little play, some singing and swimming, and ukulele practicing.