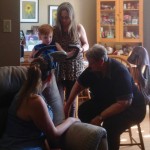 The days in Ottawa slipped by. We spent more time with Connor and the gang, and drank much more beer due to the bad influence of my baby sister ;-).  Ann's expensive new chomper (molar) finally got installed
and shaped correctly, and we both received a clean bill of health from our new family doctor. We said our temporary goodbyes and headed off towards Newfoundland, and our floating home.
The journey east was uneventful. The flooding that hit New Brunswick earlier in the Spring was long gone. We arrived at our ferry depot in North Sydney, boarded the big boat, and said
goodbye to Canada for a few months.
During the crossing Ann assumed her normal 'on guard' position 😉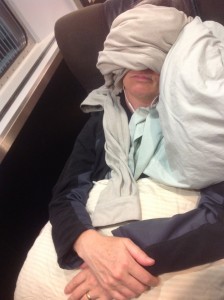 We opted for the overnight ferry this time, and arrived in Port aux Basques shortly after sunrise. Surprisingly, we both slept reasonably well, so after a quick breakfast, were able to make the drive to Corner Brook. Our fast friends, Paula & Byron, had kindly offered their spare room to us as we got Pachina ready to live on board. This made it SO MUCH EASIER. As usual, we are indebted to all the wonderful people we meet along the way.
We spent a wonderful few days with Byron & Paula and family. Even though they were dealing with a death in the family (aunt), we were welcomed with open arms, and treated to fine food, drink, warm bed, and a constant yarn.
We had plans to move onto Pachina Mia as soon as possible, but weather was still cold and damp. Besides, we had committed to helping install the docks at Woods Island. This was a day-long affair, done with the typical Newfoundland haywire flair. The docks are stored on the island, up a sloping hill. The idea is to attach big wheels to them, then with the help of a skiff, haul them down the hill to the water where we float them into place. Needless to say, it was slightly controlled mayhem. But also needless to say, it all worked out in the end.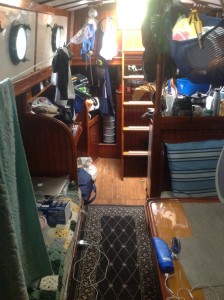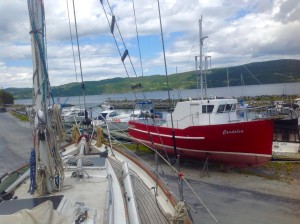 After a few days we moved onto Pachina Mia. Thanks to the vigil of our friends Brian, Byron and others, the boat had weathered the Corner Brook winter fairly well. We had a few wet spots, and she had sunk about 20 cm into the ground, but by and large things were pretty good. But living on a boat on the hard is never much fun. It's cramped, and damp, it doesn't feel right b/c she doesn't move, and there's barely enough space to move around.
But slowly we began to bring her back to life. In addition to just making her livable, we had to replace a transmission oil cooler which had sprung a leak at the end of last season. This job would normally take a competent person perhaps a 1/2 day of work … so naturally it took me more than a week.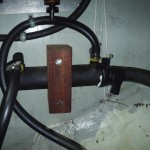 I won't go into the ugly details, but every place on a boat is small and cramped, and none is worse than the engine room. Squeezing my bulk into this tiny space, and then being able to work, was … a challenge. But after much cursing, swearing, blood-letting, and consultations with local experts, we finally managed to get a new one in place.
Early on during the cursing sessions, another new fast-friend at the club invited us for dinner at their place. John and partner Elizabeth put on a grand feast of cods tongue and scallops (two kinds) and lobster. It was grand!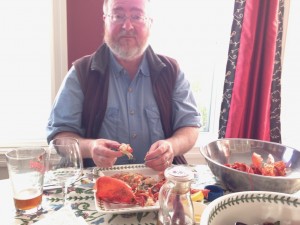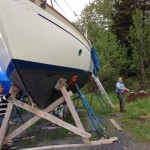 After that we test the engine, drained much of the old coolant, and got ready for launch. This, of course, was no easy task ("Why is nothing ever easy?!?" … this is my new mantra for the boat). She had sunk into the ground, and our long keel and heavy weight made the task particularly challenging.
With much help from folks like John and Byron and Brian, we managed to get Pachina Mia back in the water. After a small panic that required the quick change of an impeller, we were floating back at our old dock. It is SO GOOD to be floating once again!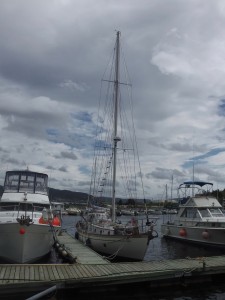 We're slowly putting our home back together now. Another minor hiccup with the fresh water system was solved with the installation of a new pump. Hopefully we can get our sails on in the next few days, finish cleaning and stocking, and be off!
Forgot to mention… I had another birthday on the 21st. As they say, the only thing worse than celebrating another birthday is NOT celebrating another birthday, so I'm happy

.
I received plenty of nice notes from folks, along with a few great presents from Mom & Sis, and my sweet Annneeeeee. From her came sexy undies 😉 , lots of beer!! And a great new collapsible walking stick, which she calls my cane!