Funny how time can slip away so easily. Hours turn to days and slide into weeks, then months, and no sooner than you can say "Winter Solstice," or "holy crap I gotta stop drinking so much (Kathy's fault 😉 )" the season has changed, and a New Year has begun.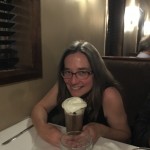 Our time in Ottawa was wonderful, as usual. We had a great time hanging with Mom and Sis. Ann celebrated two firsts: turning 55 (making her a Senior Citizen in the eyes of Shopper's Drug Mart) and officially beginning to receive her retirement pension (as of Dec. 31).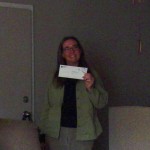 During our extended Ottawa stay Ann had more dental work done, we spent some great time with Colleen and Connor, and even managed to visit our sailing friends in Belleville. It was great to spend time with Marvin, Gary, Frank & Aloma, Erton & Jenny, and of course Deb & Chris (whom we hope will pass us by in their boat someday soon!).
But our time in Ottawa did eventually come to an end. We once again packed our life's belongings into our little red car and began the trek north and then west, stopping in a few places along with way, and visiting good friends in Rossport (Cathie and Joe and Maggie Muggins) and then in Thunder Bay.
While in Thunder Bay we spent an evening with our sweet friends Ben, Sherilyn and amazing Olivia. And then we hung out with old buddies and sailing mentors Paul, Julie and daughter Coralie. Ann reconnected with many of her work pals, and we had a great breky with my friend & colleague Elle and her Glen. Finally, with a new set of winter tires all installed (not thanks to Honda!), we headed off to Winnipeg and eventually Calgary.
The Canadian Museum for Human Rights was our first stop along the way. It was something we'd wanted to see for a while, so not being under any time pressure, we booked a wonderful AirBnB and stayed for a couple of days. The museum is not something you want to rush through, so this gave us a whole day to follow its path from Inferno, through Purgatorio, and finally to Paradiso — at least that's how I interpreted the design.
It was a moving exploration of the idea of human rights. Some of it was brutally hard, yet there was light as well. I learned a few new things, and was reminded about the evil that lives in all of us. It is well worth a visit, but give yourself time to take it all in.
The drive across the Prairies always seems the longest part … especially in a car. I'm sorry, but it is flat and boring. I try and see the beauty, but from the inside of a car whizzing past at 100 km/hr, I just don't get it. At least Ann and her new Fitbit were entertaining…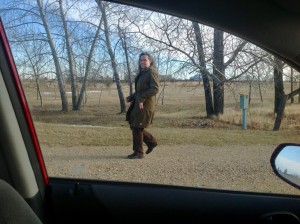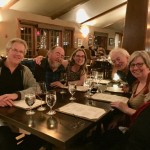 We arrive in Calgary and pulled into Hotel du Donna & Sam where we stayed for about a week. Their kindness and generosity is ever appreciated by us homeless vagabonds, and this stay had the added benefit of coming during Ann's official birthdate.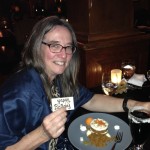 We along with D&S and Peggy & Phil, had an amazing night out at the Bow Valley Ranch, which is a very fancy (and $$$ — thanks Donna!) place in Fish Creek Park. We ate and drank and toasted the Birthday girl, and even enjoyed some fresh oysters. Fun, fun.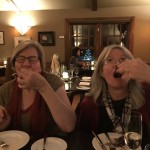 Over the coming days we just relaxed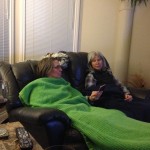 , played with my drone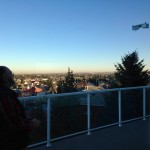 , and did some cooking and curling-watching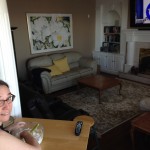 . Later that week Donna played hostess to many of the extended family cousins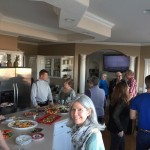 . It was great to reconnect with them all.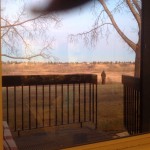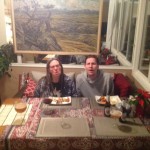 After about a week our schedule told us to move over to Peggy's place. This Chalet du Peggy overlooks Fish Creek Park, and is a wonderful refuge in the midst of this very big and fast-moving city. We moved in and made ourselves right at home. We even got to see Big Connor.
While hanging out at Peggy's place Ann and I did what we do best. She worked hard to help Peggy organize her files, and I played with my drone.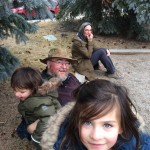 One day we even got invited over to play with Phil's cute and wonderful grandkids: Theo and Vida.
The days slipped by. There were files to organize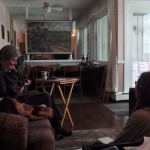 , walks to take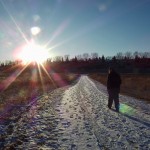 , and snow to shovel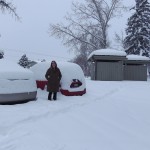 .
And droning … lots of flying the drone: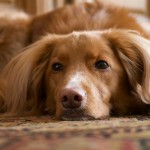 With X-mas approaching we moved back over to D&S's to see Monique and Chris (before they left for X-mas in Vernon), and to spend a few more days cavorting and conversing in the house of easy living and fascinating discussion. Ann helped Donna with her files (Ann's a Filing Beast!), we enjoyed Wally, and we assisted with the Big Meal on the Big Day.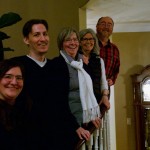 Our time in Calgary was wonderful, as usual. But all-too-soon the call of the Okanagan took over, and we were headed off to our winter home in Penticton. The drive through the mountains was challenging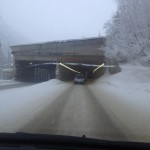 , but uneventful. We pulled into our  now-familiar BC home just as the sun was going down. Luckily, Maxi-the-cat seemed to remember us.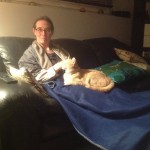 So, after digging out from the largest snow fall we've seen here in Penticton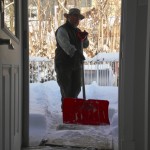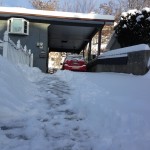 , we've settled in for three months of easy livin' … including plenty of drone flying: