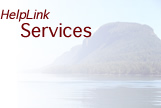 Services: Writing & editing
Writing is at the heart of most communications. HelpLink's principal has been making his living from the craft of writing for nearly two decades. Michael OReilly's work has appeared in publications across Canada and around the world. Be it a news story, feature article, radio item, news release, conference report, newsletter article or scientific paper, HelpLink has done it all.
As an editor, OReilly has managed small and medium-sized newspapers (both weekly and dailies), as well as a national magazine (Kanawa). HelpLink now specializes in corporate newsletters, overseeing the entire process from editorial production, to editing, design & layout and publication.