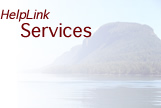 Services sample: News story
Ships' graveyard discovered
© Michael OReilly
(First published in Canadian Geographic Magazine, 2003)
Ryan LeBlanc first heard the story some 30 years ago. It was a typical mariners' tale of a vast ship graveyard lying nearby in the icy waters of Lake Superior.
A good story, but nothing more, or so LeBlanc of Thunder Bay thought. Then, around 1990, a friend stumbled upon a National Archives document referring to a plan to scuttle dozens of decrepit ships clogging up Thunder Bay harbour.
"The plan was to take them out to this deep water valley in Lake Superior and drop them," said LeBlanc. "I've been diving up here for decades and there's always been rumors of a ship graveyard in the area, but it was more like legend than fact. Here was the proof that it really did exist."
LeBlanc began a ten year search of local lore, museums, archives and the Internet. By the summer of 2001 it all paid off.
Using specially designed sonar and deep water cameras LeBlanc positively located 30 ships within about a square kilometer of each other. They are lying in about 85 meters of water some 15 kilometers off the coast of Thunder Bay.
LeBlanc says the ships date from around the turn of the last century and are mostly working vessels like the tug boat "A.B. Conmee." However, there is at least one ship with an illustrious history. The "Druid" is an iron steamer used as a US Civil War blockade runner.
Park Canada is expected to make a decision on designating the site in the coming year. In the meantime LeBlanc is keeping the exact location of his graveyard a secret for fear of vandals or salvagers. "I've already been hounded by certain dive teams for the coordinates, but I'm not interested in turning them over to anyone until we get the site protected."