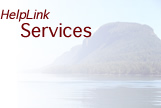 Services sample: Newsletter article
Northern Passages
Northern Ontario School of Medicine's official newsletter
Fall, 2007
Profile piece:
For some, a career is a calling – a vocation if you will. For Dr. Wayne Bruce it was all that, along with the combination of an insightful guidance counsellor and questionable professional basketball skills.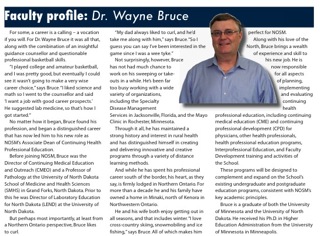 "I played college and amateur basketball, and I was pretty good, but eventually I could see it wasn't going to make a very wise career move," says Bruce. "I liked science and math so I went to the counsellor and said 'I want a job with good career prospects.' He suggested lab medicine, so that's how I got started."
No matter how it began, Bruce found his profession, and began a distinguished career that has now led him to his new role as NOSM's Associate Dean of Continuing Health Professional Education.
Before joining NOSM, Bruce was the Director of Continuing Medical Education and Outreach (CMEO) and a Professor of Pathology at the University of North Dakota School of Medicine and Health Sciences (SMHS) in Grand Forks, North Dakota. Prior to this he was Director of Laboratory Education for North Dakota (LEND) at the University of North Dakota.
But perhaps most importantly – at least from a Northern Ontario perspective – Bruce likes to curl.
… etc.